•
Home
•
Toy Champions
•
Mini Champions
•
Standard Champions
•
Testimonials
•
In the Media
•
Our poodles all over the internet!
•
About Me
Cabryn Poodles

Testimonials M-Z
123 Main St., Hackettstown, NJ 07840
Phone: 908-852-3299 Fax: 908-852-2099
email: cabryn@comcast.net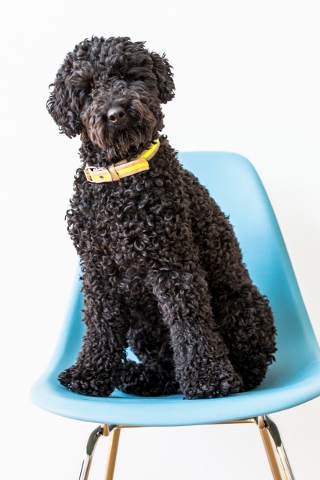 " Miles "
Hi,

Hope you having a nice spring so far. I was just emailing with a friend who has been interested in getting a poodle. She met Miles last week and that sealed the deal! He is a bit over a year now and has matured into the most sweet, amazing character! He is such a happy little guy (no anxiety or stress or fears, its truly remarkable) I've found that he loves to have a purpose…when we walk he likes to carry something home for me..so i often give him a piece of mail or magazine to bring in and he just marches along with pride. On the way out he always carries his frisbee (his favorite toy right now). It's impossible to get anywhere though because EVERYONE stops us to admire him.

He continues to do therapy work on Mondays and is the highlight of the day program for many of the folks there. He is having people throw the ball for him or have him do his tricks. I've gotten pretty involved with the Good Dog Foundation (the volunteer pet therapy organization here in the city) and I'll be photographing their big gala event in may. Hopefully Miles will come also!!

All the best,

Kate Lacey
Brooklyn, NY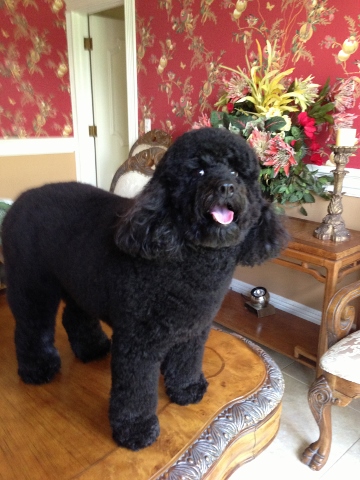 " Molly "
Hi Carolyn:
"Molly" 1 1/2 years.....and doing just great. She has such a wonderful temperament and sooooo beautiful! I so Love her. She's not afraid of lightning/thunder or firecrackers. Every dog I ever had (about 15) were scared. Again, thanks for the great breeding!!!!

Joan Thomson
Florida
"REAGAN"
4 years 4 months Celebrating Chanukah!
Dear Carolyn,

Thank you so much for returning my call inquiring about a puppy for my friend.

I was referred to you several years ago by Casey Johnson, who had one of your toy poodles. You helped me find an older poodle that I could adopt. Reagan was 4 1/2 years old when I adopted her. Reagan celebrated her 14th birthday this July.

She is an absolute joy! We love her so so so much. She has brought so much happiness to our lives and just love hanging out and kissing her!!! I thought you would enjoy seeing a photo of her.

Enjoy the photo and I want to thank you again for making my dream come true- which was to adopt a Cabryn poodle!

Take care,

Susan Rozin
NYC
Return to Testimonial Index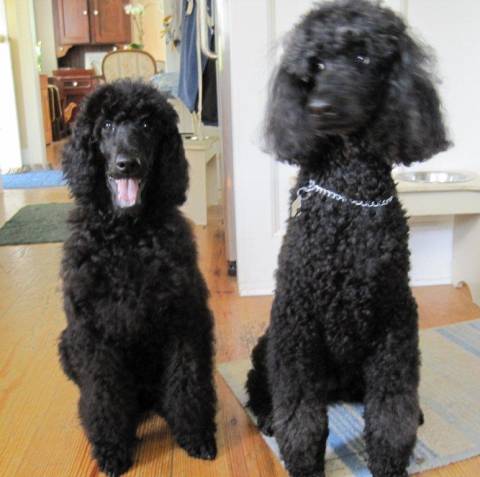 " Tiger and friend, Frannie "
Dear Carolyn,

Just a note and a photo of Tiger as he approaches 5 months. He is truly a joy and loved by me, Frannie (other poodle) and all who meet him. His disposition and behavior are PERFECT. It takes under a minute to teach him anything. I thought I would never get over the death of my Patrick and although I still miss him terribly, Tiger has filled my heart with his joyful personality. He is always my happy boy and Frannie is so glad to have a playmate. I think Tiger is quite pleased with his new home. I just wanted you to know that all is well.

Kind regards,
Linda Cross
Return to Testimonial Index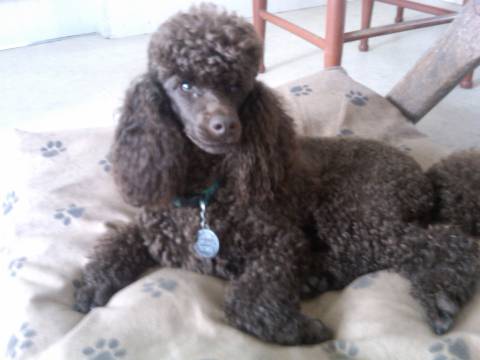 " Rory "
Carolyn,

I just have to tell you that Rory is absolutely the best dog we have ever had, and the most beautiful. You can tell by the picture. Kelly our groomer agrees. I grew up with poodles and would never consider any other breed. Marybeth and I got Rory from you two years ago because our other poodle Eddie was getting very old and we couldn't imagine living without a poodle companion. Eddie has come back to life with Rory. The two of them together are quite amusing.

Rory is very athletic. His favorite game is catching a soft frisbee and returning it. He loves everybody and other dogs. He makes people feel special. He sleeps next to our bed and will check on me if I oversleep. Rory is generally a calm, quiet, gentle, loving companion with a great sense of humor. We are very privileged to have such a great dog. When we get another dog it will be from you.

Bestest,
Michael
Return to Testimonial Index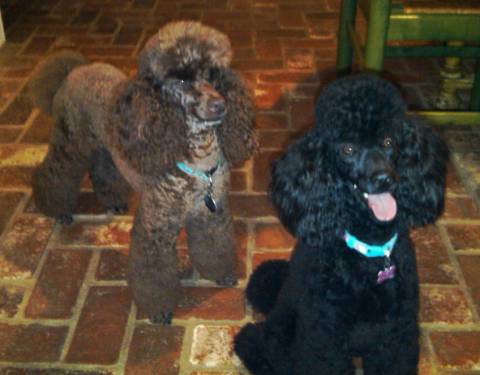 " Rory and Lu Lu "
Dear Carolyn,

We never thought there was another dog that could actually match Rory(the male we got from you), but his half sister Lula is certainly a contender. Rory loved her from the moment they first met last November. They have never stop playing. Marybeth and I can't imagine not having the two of them together.

Lula's personality is absolutely lovely. She is very lively, athletic, outgoing, affectionate, and friendly with other dogs and even strangers. We are finding that she likes to please us and learns commands quickly. I think that she would be an excellent circus dog. She is now nine months old and every day is growing more beautiful. Lula has a gorgeous silky jet black coat with beautiful black eyes and perfect posture. Our groomer Kelly says that she has never worked with two more beautiful dogs.

Carolyn, your poodles are the best. Thank you so much.

Yours truly,
Michael & Marybeth Peters
Chocolate or Licorice?
" Rory and Lulu "
Return to Testimonial Index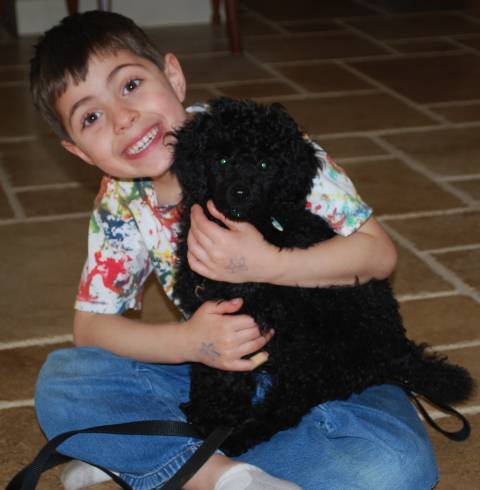 " Teddy "
Hi Carolyn,

I hope all is well with you. I wanted to send you a picture of our new pal Teddy. We could not be more thrilled with him. He's such an incredibly patient and smart dog with the most pleasant disposition. He's been to the vet 2x for routine vaccinations and is growing so fast (almost 7 lbs). The kids are in love with him of course and he has taken to them beautifully. Nothing phases him; i.e., the vacuum, doorbell, etc and is such a welcomed change from the craziness that came with our terrier. I give full credit to you as you picked his parents!!

Potty training is coming along and for the most part; his crate is clean in the mornings for about a week now, however he occasionally pees by the front door during the day if I missed his cue. He's subtle - not vocal but that's ok. It's better then being a crazy barker.

I'll send more pictures, take care.
Debbie Piperno
Return to Testimonial Index
" Tasha "
I just love Tasha and am sending you a picture. I assume that since her sister lives in Alaska that the picture of the mini-poodle in Anchorage, Alaska is her sister. Jewel was their mom and I hope that she is doing well . Tasha is enrolled in agility this spring and she loves it.

Thank you for breeding well-balanced & beautiful poodles. My life would not be complete without Tasha!

Annie Brown
Return to Testimonial Index
" Ziggy "
Hi Carolyn,

Here's a picture of "Ziggy" as he is graduating this past week from Puppy Kindergarten. He did beautifully, but no surprise as he is so smart! Now it is now onward to Family Dog classes!!!! And then beginner's Agility!

Thanks so Very Much,

Nancy
Return to Testimonial Index
" Sunny "
Dear Carolyn,

Sunny is just great! She is the perfect puppy. We love her so much already we can't imagine life without her. She slept in her crate without even a peep the whole night. Thank you, Carolyn, for choosing the right puppy for us. She knows her name and comes when called. She is eating well. Sunny is quite a strutter and prancer. We crack up at how she bops around with such confidence. We thought maybe she would be shy and retiring but she isn't. Neighbors came over yesterday and thought she was hot stuff!!

I hope her siblings go to homes that will love them as much as we love her. Oh, and by the way, we really meant that we thought your biography is lovely. You should be proud of all you've accomplished. I'll give you frequent updates and pictures.

Sylvia & Sunny
Return to Testimonial Index
William Elliott spoke of Carolyn O'Rourke, owner of Cabryn Poodles, and his "Pippin" and "Derbster"
As you are know in the Elliott household, you are one of the cornerstones of our lives!

Pippin and the Derbster have brought Arleen and I more happiness and joy than we could ever have imagined.

Your commitment to your profession, family and friends is amazing, and I oughta know - I've known you for almost twenty years!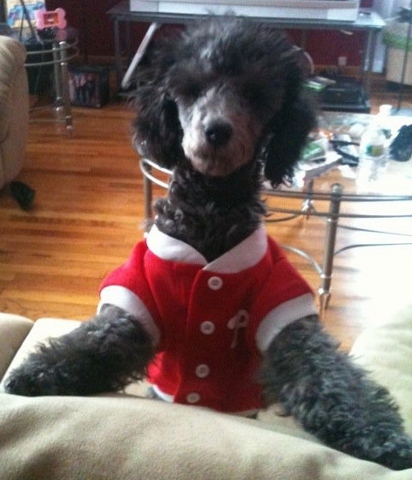 " Martini "
LOL...She is a beauty and soooooo sweet. She touches hearts wherever she goes. Even when we came home today from food shopping my neighbor had a present in our mailbox for her. Everyone falls in love with Martini. She's got personality and always makes a great impression. It's magnificant to see how she has grown. We tell her she has model legs-very long. She's great at posing for pics too. I think she has more clothes than we do. HA! Mommy and daddy to spoil her but she doesn't seem to mind!!! She soaks up all the attention from everyone. LOL...She is definitely a people person. We'll send more pics your way very soon as soon as we get them on this computer. Give "Ranger" and "Maggie" a giant kiss from all of us!

Fondly, Beth and Bob


Return to Testimonial Index
" Jolie, Maxi and Coco "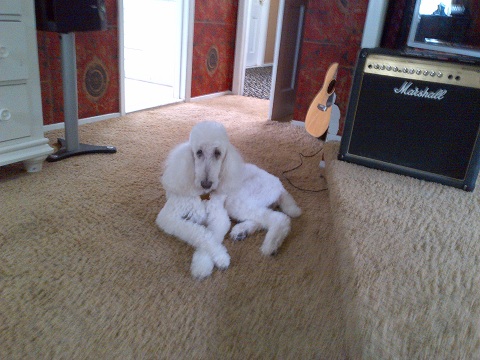 " Jolie "
" Maxi "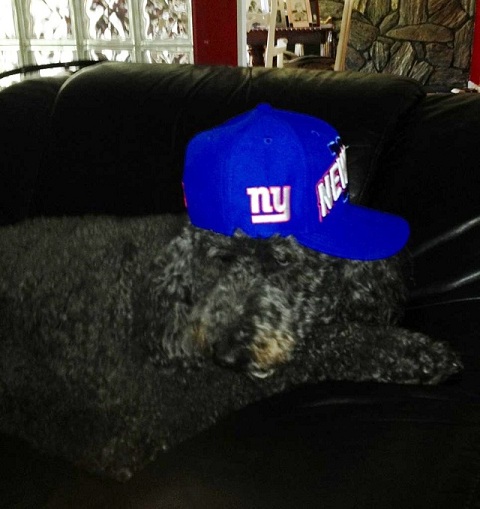 " Coco "
Carolyn-Thank you so much for the joy you have provided our family with our three standard poodles. Here are three photos of "Jolie"-15 yrs. young with her front legs crossed, "Maxi" who is 1 yr. old looking for her toy over the couch and "Coco" wearing her Giant hat who is 9. Please put my Wonderful furry family on your website for all to see!!!!! They are all very good sisters to one another!!!

Much Love,

The Nemeroffs
Long Island, NY


Return to Testimonial Index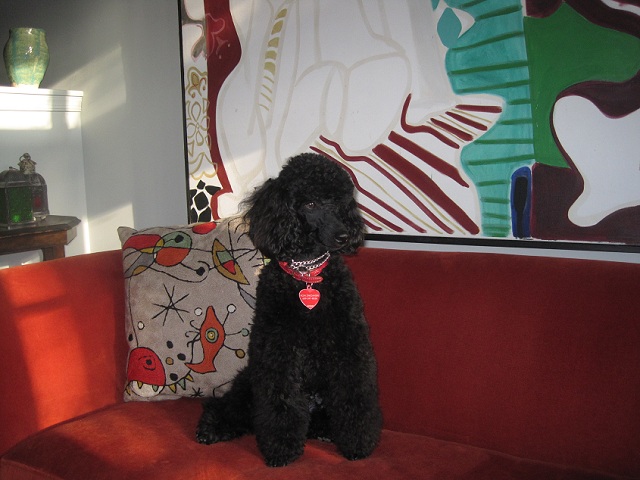 " Monti"
It has been a year since we brought home a Black Mini Male Poodle now known as "Monti."

During the past year Monti has filled our life with happiness an joy. He is a very happy dog which can be attributed not only to his personality but also to his health. As the owners of two previous Standard Poodles we believe he is the healthiest dog that we have ever owned.

Thanks you for taking the chance in bringing such a wonderful creatures into this world, and giving us a chance to experience a part of life that most people never experience.

The next time we are in your neighborhood with Monti, we will stop by so you can see the results of your good breeding and the tender care that your provided to Monti when he was just getting started as a puppy.

Ron and Kathy
Lambertville, NJ
Return to Testimonial Index
"MAXINE" 4-years old!
I am enclosing a picture of Maxine, the chocolate toy poodle I bought from you 4 years ago (her birthday is November 23, 2002). I was definitely nervous when I got her--I had never owned a dog before. She has made owning a dog a breeze.

She's is definitely a member of our family. She's my baby--my third child. Maxie is everything you say you breed for--calm, sweet, loving, smart and totally spoiled! There is hardly a person on the street that doesn't comment about her.

We adore her!!!

Many thanks,
Sharon Gresh (and Lina, Michael and Isaac)
Return to Testimonial Index
Hi Carolyn,

I've been meaning to send a picture of Shelby. She was being especially cute so it prompted me to share this most current photo with you. It's the cutest picture (but, I think ALL of her pictures are the cutest !!!!) She "IS" the BEST and I Love her to death !!!!!


She is such a Great fit for me and my lifestyle (I DO love those standards!!!!! Just hard to fit them under the seat in front of me when I travel, right?????) It's hard to believe I've had her for just about 18 months, yet I can't imagine life without her!!

As you can see she is a "Show Stopper" wherever we go. She is the best traveler, just as you assured me that she would be. The joy and happiness she brings me everyday is immeasurable. I wanted you to be sure to know that. I can't thank you enough for sharing her with me! I really wish I lived closer, so that I could visit and see in person all of your beautiful poodles that you tell me about !!!!!

I wish you all the best as you continue the wonderful job you were so clearly meant to do!! I look forward to our continued contact.

Best Regards,
Rosemary
Return to Testimonial Index
Juanita said the following about her dogs:
"I love my dogs, Stripe and Derby. They are like members of our family. They are so smart, we have to spell in front of them!"
Return to Testimonial Index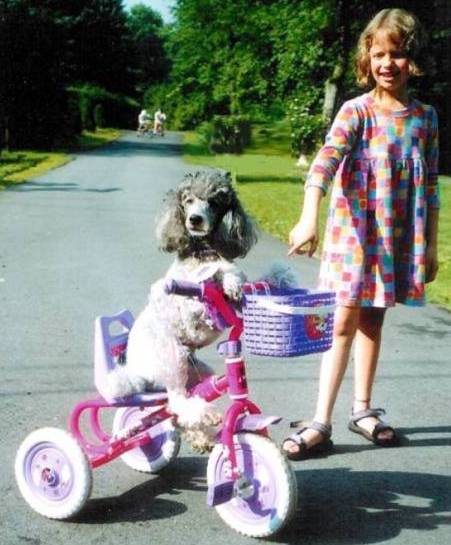 "Tiffany"
I got Tiffany in 1999 and found her to be very outgoing, extremely intelligent, and athletic. She taught herself to "fetch" taking her ball, tossing it down the stairs and then running down to the foyer to catch it before returning to the top of the stairs and starting all over again.

She is also a very loyal dog. Because of my grandson's health issues I had to give her up and placed her with a family who moved to Connecticut and who love her dearly. I don't think that she never realized that she was a dog and they didn't have the heart to tell her. Over the years when I was in the area on business I'd stop in and visit her. They would tell her "Tiffany, Papa Steve is coming", and she would sit in the window and wait for me, going absolutely bananas when I came up the driveway.

Tiffany is now 12 and has recently been diagnosed with lung cancer. The vet says that there is nothing that he can do for her, so her days are numbered. When her time comes, she will be missed by two families who were proud to have had her as a member of their families.

Steve Martinko
Return to Testimonial Index
" Utley "
Carolyn,

We wanted to share with you a picture of Utley. Since we got him from you last November, 2008 he has been a pleasure to have in the family. He is lovable, smart and loyal. He is everthing we want in a dog and we are so glad to have found you and your poodles.

Thanks again and happy holidays.

The Tishgart family
Return to Testimonial Index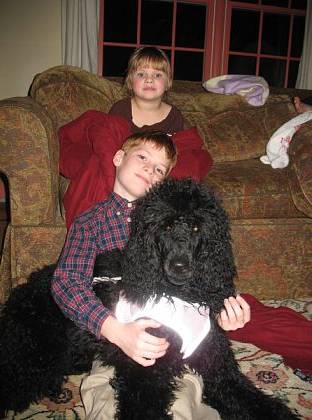 " Vio "
Carolyn,

I wanted to reach out to let you know how wonderful our black poodle is with the family. We're named her Via short for Violeta. She thinks she is a lapdog and just wants attention & will sit on your lap all the time.. She is wonderful with all the kids. My oldest son is 10 years old & has adopted her as his dog. With my seven-month-old, she sits and waits until she can eat all the Cheerios left behind. She is just a wonderful delight and I will be more than happy to be a reference for any future clients that may have small kids or questions.

Trust me she is absolutely beautiful!

Anna Trainor
Return to Testimonial Index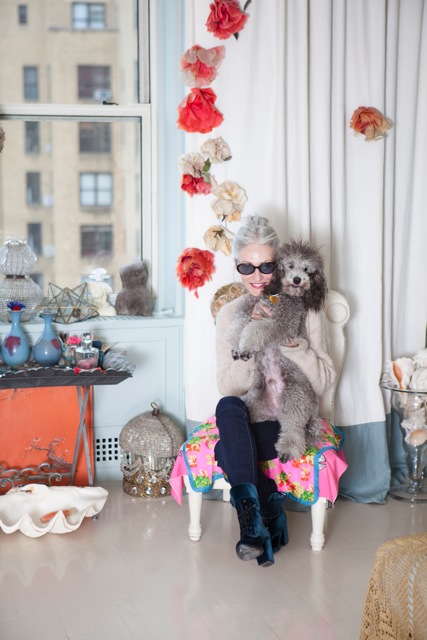 " Winky "
Hi Carolyn,
Not only is my "Winky" the MOST BEAUTIFUL CREATURE ON THIS EARTH, but he is the SWEETEST, MOST GENTLE AND BRILLIANT TOO! I could not live without this wonderful, beautifully "CABRYN BREED" POODLE! HATS OFF TO CAROLYN OOXXOXX

Linda Rodin
NYC
Return to Testimonial Index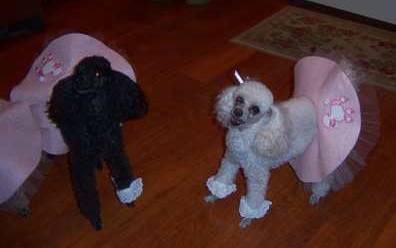 " Zena "
Carolyn,

I wanted you to know how much we have enjoyed our little Zena. Being the smallest of our three poodles, she has worked her magic on all of us and has become my "special companion." She is so loving and attentive! She waits for me to come home each night and expresses her enthusiasm for my arrival. Not a barker, she whimpers until I pick her up and she nestles in the crook of my neck. She is happiest when carried around, or settled in your lap. She is devoted to me and my family members and expresses her love for all! You can surely tell that she came from a loving environment where she was socialized and groomed with love.

I thought you might enjoy a recent picture of her at Halloween, all dressed up in her 50's best. Thank you for sending Zena our way. Home is happier with her sweet little face running around!

I can tell that you care about all your dogs and I have appreciated our relationship. Thank you again!

Betty Shaw
Utah
Return to Testimonial Index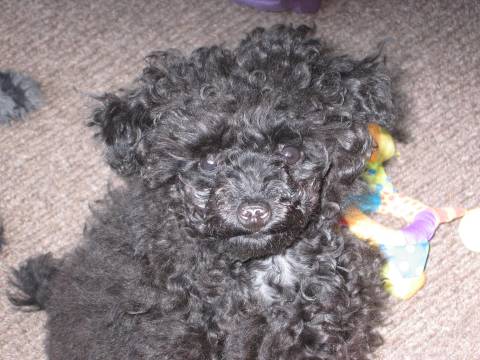 " Zoey " at 7 months
Hi Carolyn -

As promised - attached are some photos of Zoey's face. It' hard for me to get her whole body and be able to see her face since she is so dark.

Zoey is now 7 mos. She's gorgeous - perfect conformation, I believe, and the most adorable face on earth. We do not shave her - she's as natural looking as we can keep her and still be good caretakers and groomers :) Her temperament is unbelievable - the puppy has never met a person or living thing she does not love on site. She wants to lick everything and her tail is like an insane metronome - wagging her happiness to meet any person, dog, bird etc. I do not believe I have heard her growl once. She barks occasionally to let us know she heard something outside - or when she does not want to listen to us ask her to sit, lie down, stay etc. She is well trained for the important behaviors already - sit, lie down, stay, come, drop it are all within her repertoire. But she has a lot of spunk - and occasionally will voice her displeasure at being asked to sit and stay :) Took me three times with each behavior and she knew it. Smart as a whip and a truly loving puppy.

I cannot thank you enough for the joy she brings to me and my husband every day. And to the joy she elicits in everyone she meets - here or in the park. She's a rock star and I love her with all my heart.

Warmest regards,
Barbara
Return to Testimonial Index
" Zoey "
Hi Carolyn!

I just wanted to write you and thank you for Zoey. She is such a huge joy in my life. Zoey has graduated from puppy kindergarten and we love taking walks together. She loves playing with the biggest dogs she can find! She is the sweetest most wonderful dog and many people stop us on the street to admire her.

I hope all is well with you and that all of her siblings are doing well.

Regards,
Caroline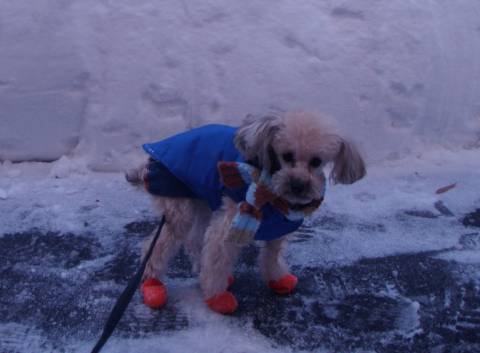 " Zoey "
Hi Carolyn!

I just wanted to update you on Zoey. She is an amazing joy in my life and is constantly making me smile! I took her outside after the snow storm in the city and she was absolutely miserable!! Yesterday she was on the Nate Berkus show modeling a dog high chair, which I do not own, but was a fun experience for her. Everyone admired her and commented on how well behaved and adorable she is. Here is the link for the video:

Click to see Zoey on TV!


Thank you again for my wonderful Zoey!
-Caroline
Return to Testimonial Index
•
Home
•
Toy Champions
•
Mini Champions
•
Standard Champions
•
Testimonials
•
In the Media
•
Our poodles all over the internet!
•
About Me