•
Home
•
Toy Champions
•
Mini Champions
•
Standard Champions
•
Testimonials
•
In the Media
•
Our poodles all over the internet!
•
About Me
Cabryn Poodles

Testimonials A-L
123 Main St., Hackettstown, NJ 07840
Phone: 908-852-3299 Fax: 908-852-2099
email: cabryn@comcast.net
" Buffy "
This is our beautiful Standard Poodle, Buffy. Actually, she is Buffy number III. Our relationship with Cabryn Kennels and Carolyn O'Rourke, goes back to the early 1970's when we bought our first Buffy. Though the years we have purchased five Standards from Cabryn. Each dog was unique in personality, but shared the high-quality standards of the breed. It was so reassuring to know that our dogs came from a breeder that had high standards when selecting a breeding pair. All medical tests were performed on the dogs and no dog was ever bred if there was even a hint of an abnormality. We have never had a dog with a single health issue.

In addition to owning Cabryn Poodles, we used Cabryn to breed our dogs. Each breeding was successful and a positive experience. What fun we had raising all those puppies.

Look no further, you will not find a more dedicated breeder of high quality Poodles.

Gail and Neil Nederfield
Lafayette, NJ
Return to Testimonial Index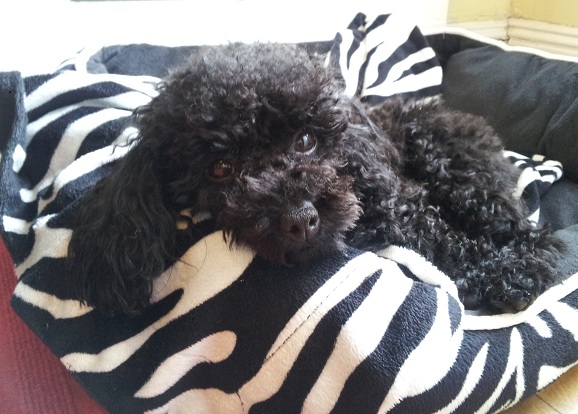 " Cabryn Mia II "
Hi Carolyn!

Just wanted to send you a sweet pic of Cabryn Mia II. Sheís doing great! I got to tell you, she is the funniest, smartest and bossiest little thing Iíve ever seen. She bosses all of her doggie friends around and literally tells them what they can touch and not touch in the house. If they get out of hand she picks up her paw and slaps them right across the face! Itís the craziest thing! At 5 pounds she is always the smallest of the bunch but she doesnít know it! LOL

Tammy
New York
Return to Testimonial Index
" Callie " Angel on a Leash
Hi Carolyn,

Thought you'd like to see this! We volunteer at Memorial Sloan Kettering Hospital and we are now part of the, "Angel on a Leash" program.

Big Hugs!
Nancy and Callie
"CALLIE" 4-years old!
I believed in you from the very first phone conversation we ever had. As the movie line goes, "You had me with hello!" You are genuine, Carolyn, the real thing, and you changed our lives the day we met you and your poodles. And I saw the love and sweetness in your eyes when you talked with us about them! And that's why I give your pens to everyone! (Yes, they work sometimes!)

We can't begin to tell you what our "Callie" means to us. You have given us the most profound gift in the world. That's why I feel such a connection to you and why I have always wanted to stay in touch with you, because, well, just because you are you!

xoxox Nancy
Return to Testimonial Index
" Brooke "
Dear Carolyn,

We thank you for breeding wonderful "girls" like Brooke. She is just such a joy. She has a good life here and is such a gay, happy girl.

I took her to an outdoor craft fair on saturday and she was perfect and received many compliments. she sat on a bench with us and shared a hot dog - a birthday treat.

She also sends good wishes and best regards to her other pals in Hackettstown.

Alice Schiller

P.S. She is a very happy and much loved girl.
Return to Testimonial Index
Male Silver Mini " Chagall " at 4 months old
First Grooming!
Dear Carolyn,

Here's a picture of our four month old male silver miniature poodle Chagall, out of your Lady Liberty and The Lone Ranger. We don't need a welcome mat anymore, he's it!! We can never thank you enough for breeding such friendly, clever, good-natured, gorgeous poodles, and for allowing us to have one of yours in our lives. He is excellent with his potty habits and is friendly to all people, dogs and cats. He also seems to really like the parrot at our vet's! He learns so quickly we think he may actually be a man in a puppy suit; he sits, gives paw, lays down and rolls over on command. We are just so in love with him, as is everyone who meets him--he's such charmer! This photo was taken after his first grooming. We left his tail natural for now because he's a country dog, it looks like a big plume! I wish I were a better photographer because the picture really doesn't do him justice. We'll bring him to visit you again in a few months so you'll see for yourself what a stunning guy he really is.

Thanks from the bottom of our hearts for giving us this wonderful dog to love and enjoy!!

Debbie Pawa & Richard Schatzman
Stockton, NJ



" Chagall "
Second Grooming - "Look how I've grown!"
Hello Chagall fans!

Well, Messier Chagall had his second grooming. The groomer told me she "loves" him because he is "so affectionate," which is the absolute truth! Chris, the owner of the grooming shop, asked me where I got Chagall. When I told him your name Carolyn, he said he knows of you. Two other people (among the throngs of Chagall admirers!) also know you; Christine Warner of Furry Godmother petsitting, and a woman in Clinton whose name I didn't get who told me her mother-in-law had a magnificent standard silver poodle from you and they're thinking of getting her another of your wonderful poodles. Of course I encouraged her to do so!

I cannot tell you how proud and happy I am to have one of your poodles! He is a dream dog; he's the sort of dog I'd walk up to before and admire and wish to myself that I could have one just like him. I still can't believe he's mine, and how absolutely wonderful, loving, friendly, clever and cheery he is. The woman who owns the pet boutique, Fur Majesty in Clinton said I just have to do pet therapy for seniors with Chagall. She said he's made for it. He's more than I could have hoped for, Carolyn. I enjoy training him and taking him places and just cuddling with his warm, snuggly little body. I've scheduled him to be neutered, though I would rather have him cloned if I could!

Chagall is coming along beautifully. He LOVES little kids; from infants to toddlers to tweens and teens. Thank you a million times over for making this magnificent dog a part of our lives. I just cannot tell you what a fantastic experience it is the have him for our own!

Best Regards,
Debbie
Return to Testimonial Index
" Dixie " and " Daisy "
Hi Carolyn.

I hope that this email finds you well and still enjoying your poodles! I wanted to update you on our wonderful dogs!

Yesterday our two sweethearts, Daisy and Dixie, celebrated their 2nd birthday!

As you may remember, my husband and I chose our puppy and left. Then turned around and came back for the other one for my parents. Thank God that we did! They have brought us so much joy and love!

Daisy lives with us in our very active household and Dixie with my parents in their retired household. It's so neat to see how each of them has taken on the personality of the house :) They spend a lot of time together (several times a week) and even many sleepovers when one of us are away. They had a rocky start with the cough and pneumonia ...but you'd never know it to look at them now! They are the picture of health. Thank you fo your support during those episodes. It proves your professionalism and respect for your dogs!

Daisy is more silver than Dixie. Dixie's coat is SUPER thick whereas Dixie is smoother. When Dixie's ears get too long, they look like an afro!
Training with the pups has been a joy. They both ring a bell that hangs by the door when they need to go out. They come when called and do many neat tricks. They even know the rules at both houses....amazing! They travel super well. Dixie goes to Myrtle Beach twice a year with my parents and Daisy loves to camp with us too. They LOVE the beach and love to splash in the water.

So as you can see, they are an important part of our family and we thank you for them! I have attached a pic of them...

Fondly,
Chrissy Oppegaard
Return to Testimonial Index
" Ella "
Dear Carolyn,

Happy New Year!

I just thought I'd give you a little update on Ella. I've really noticed in the past 6 months a change in her verbal comprehension and communication. I said to her the other day, "I'm sorry, you can't come with me" and she immediately dejectedly walked under the table and laid down.

Also, she's become MUCH more affectionate in the past year as well. When she was a puppy she was so busy exploring the world, but now she is very loving. She is a tremendous licker and loves being scratched. She is the happiest dog you could possibly imagine. She loves everyone and everything, all day long.

Best,
Ariana and Ella
Return to Testimonial Index
" Emmitt " on Halloween
Hi Carolyn,

Thank you so very much for breeding such a wonderful dog! So glad we found you!
Return to Testimonial Index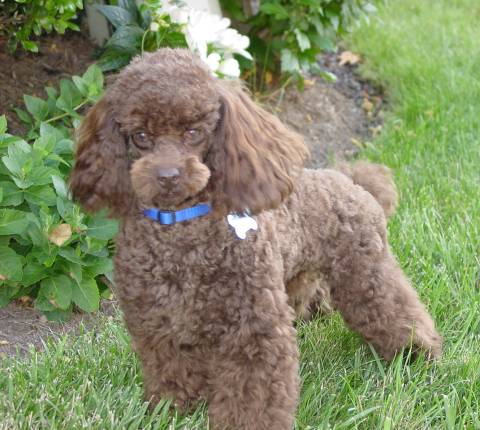 " Futte "
Dear Carolyn,

We live with the very best proof of your many year's of hard work, dedication, love and respect....a great dog, our best friend, companion and tremendous joy! A heartfelt thank you.

The Roed family and Mr. Krispie/ "Futte"
Return to Testimonial Index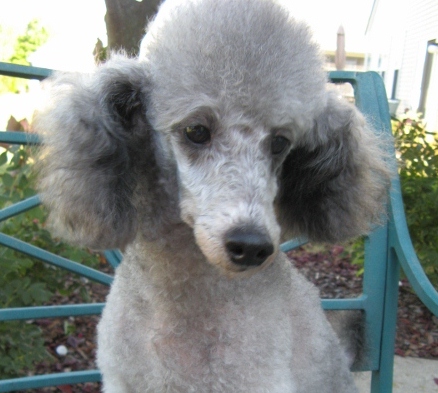 " Gigi "
Gigi is my second Cabryn silver poodle having owned Tiffany in 1999. I had to wait 11 years after owning Tiffany and was looking for a rescue dog. In late August when I found out that there was a Cabryn poodle up for adoption I jumped at the chance. Like me, she is a Senior Citizen, having turned 8 in early September. Gigi has adjusted very well to her new home. She is a very calm dog, and a quick learner who loves to take long walks, even in the snow. She has become a member of the family and even my wife who is not a dog lover, has bonded with her. However, there is no doubt in Gigi's mind whose dog she is - MINE.

Tiffany was a tough act to follow, but Gigi has proved to be everything that I had hoped that she would be.

Steve
Return to Testimonial Index
" Hunter "
Hi Carolyn,

I thought you'd like to see some recent pictures of Hunter. He is now almost 15 months. He is getting more social with other dogs and people. He is very active, and enjoys playing with us all the time. He is quite a little character!

Happy Holidays!

Ira and Lori
Return to Testimonial Index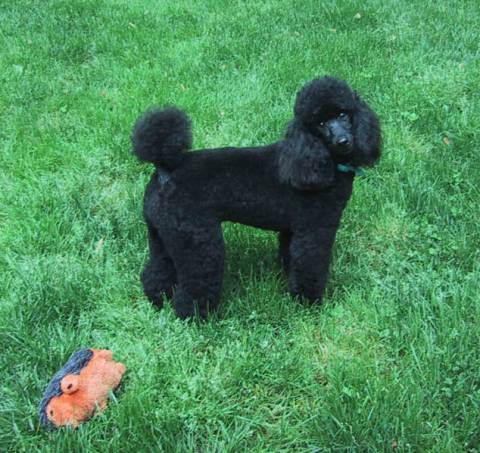 " Jimmy "
Dear Carolyn O.

Thank you, Thank you, Thank you !
v We are over the moon with joy with "Jimmy" a smart, fun loving, handsome black male mini Poodle. "Jimmy's" groomer >>> Carol Basta won 1st place with "Jimmy" at Groom Expo 2007 Hershey, Pa.

Again, Thank you for breeding great mini Poodles,

Carolyn & Rob H.
Warren Township, N.J.
Return to Testimonial Index
" Lily "
Dear Carolyn,

Here is the photo that I told you about. Is that a face, or what??

Lily will be 13 years old on March 3rd. She has been one of the great joys of my life since the day I brought her home. She is as classy, sweet, polite, feminine, obedient, intelligent and beautiful as the day that I selected her.

It would have been enough to have a great dog, but there is frosting on the cake - and that is being your friend through good times and bad for all of these years.

My eternal gratitude,
Roslyn Wiener
Return to Testimonial Index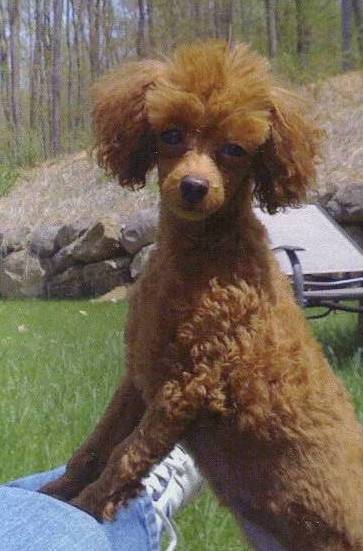 " Lucy"
Dear Carolyn,

I cannot express the right words to describe my feelings regarding LUCY - other than we are in love and she is SO SO happy.

thank you so much for entrusting her with me and my family. She has grown by leaps and bounds.

I can't wait to bring her in to see you.

All the best,
Sheila
Return to Testimonial Index
Belcanto Standard Poodles wishes to thank Ringo (Am. Can. Ch. CABRYN Ringleader) for his children and grandchildren who are all supreme athletes and are either training or competing in the NADAC and USDAA agility venues. While any standard poodle can train or compete in agility, very few make it to the top. Structure is positively paramount as is an attitude and desire to work. Ringo gives both in abundance - below is a photo of daughter Karma and a list of our kids either competing or training! Thank you, Carolyn and Ringo!


" Karma "
Tiara Karma of Belcanto NJC TGN-N

(Am & Can Ch. CABRYN Ringleader x UKC Tiara She Loves You EJC EAC ECC TN-O TG-O)

Can. Ch. CABRYN Dogzilla (son)

Tiara Karma of Belcanto NJC TGN-N (daughter)

Belcanto Sarah Vaughn TGN-N (daughter)

Belcanto Lady of the Realm (daughter)

Belcanto Blessed With The Gift of Foresight (grand-daughter)

Belcanto Yoga My Love (grand-daughter)

Belcanto Blessed Baby Zen (grand-daughter)

Belcanto Sweet Angelina (grand-daughter)

Belcanto Sabra Metuka (grand-daughter)

Belcanto Myla Rose (grand-daughter)

Belcanto Waltzing Mathilde (grand-daughter)

Belcanto Ariadne Auf Naxos (grand-daughter)

Thanks.
Grace
Return to Testimonial Index
CABRYN Angelsong Tickle the Ivories - " Ivory "
CGC, Rally, Obedience and Agility wannabe
Dear Friends,

I hope that you can see my little Ivory in the ring for the very first time!
She was wonderful and very attentive! I was very proud of her (and of me for figuring out how to upload a video to youtube.com like the rest of the world).

Sincerely,
Rena and the poodle patrol
Return to Testimonial Index
Dear Carolyn,

I see you have added a wonderful web site for people to get information about your poodles. I'd like to say that we have had two great standards, a brown and a black, that have prompted me to tell friends about them. They, in turn, have bought their own wonderful Cabryn poodles. Needless to say, keep breeding these wonderful, lovely, intelligent dogs. Thanks so much,

Ellen and Leon Lederman
Return to Testimonial Index
Dear Carolyn,

As a first-time dog owner, with allergies to cats, i decided to get a poodle. I was grateful you had a 5-month old poodle pup that i could train outside vs going from paper to pavement/grass. Leonardo brings joy and laughter to my life daily. I have friends who witness him smiling. He is full of pep at the young age of 13 (born 3/9/99) & joins me on walks through Central Park every morning. He carries his floppy disk back home, and if I do not have the disk, my glove will due!! Leonardo has taught me how to live in the moment, which reduces stress and makes me more conscious of the present. You told me you breed for temperament and personality, and indeed you do!

Best Wishes,
Barbara Kramer
NYC, NY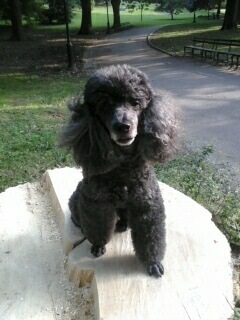 " Leonardo "
Return to Testimonial Index
Dear Carolyn,

Just wanted to get in touch with you--we lost our white standard poodle Beatrice, whom we got from you 11 years ago, yesterday. She was a wonderful friend to us and our son--we wanted to thank you for bringing her into our lives. She was not only beautiful, she was smart and sweet--everyone who met her loved her (in fact, one of our groomers thought so highly of her that she sent several of her other clients to you over the years--she said that every Cabryn poodle she groomed was gorgeous and had a wonderful termperament)! She contracted squamous cell carcinoma in her mouth over the winter and, despite treatment, lost her battle. I'm attaching a picture for you taken about a year ago.
All the best,

Andrea Colby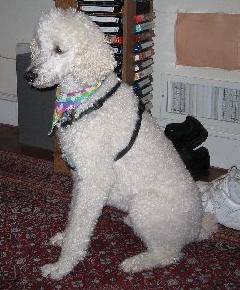 In memory of..."BEATRICE"
Return to Testimonial Index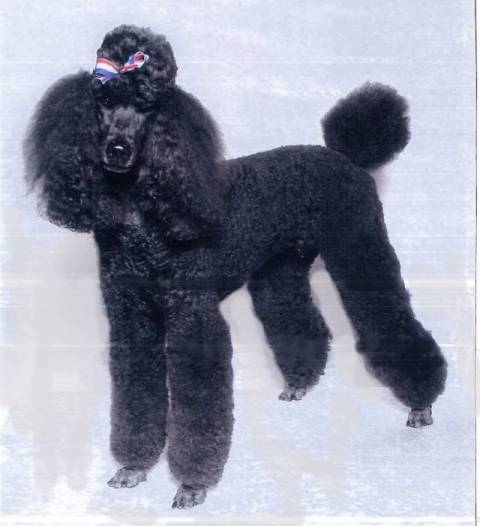 " Halle "
For Halle is the center of my life who is the MOST MILD MANNERED dog I have ever encountered in my life and I have encountered MANY for I have had myself two dogs in my life Both were purebreds and they were Nothing compared to "Halle Girl" "Queen of the World" as her father has named her.

Elena Rodgen
Return to Testimonial Index
William Elliott spoke of Carolyn O'Rourke, owner of Cabryn Poodles, and his "Pippin" and "Derbster"
As you are know in the Elliott household, you are one of the cornerstones of our lives!

Pippin and the Derbster have brought Arleen and I more happiness and joy than we could ever have imagined.

Your commitment to your profession, family and friends is amazing, and I oughta know - I've known you for almost twenty years!
Return to Testimonial Index
Return to Testimonial Index
•
Home
•
Toy Champions
•
Mini Champions
•
Standard Champions
•
Testimonials
•
In the Media
•
Our poodles all over the internet!
•
About Me